All facts about Denmark
All facts about Denmark.
Denmark is peninsula fancifully situated on the Map of West Europe , it looks like Denmark somehow turned to Sweden. In the sea near Danish coast spread about 400 islands . Do you know Denmark is the most oldest monarchy in the whole world. Until 19th century were one of most important power in North Europe .
Country background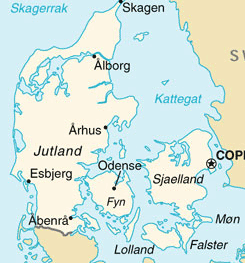 Once the seat of Vikings and later a major north European power! Denmark is prosperous nation that is participating in the general political and economic integration of modern Europe. Denmark remained neutral in the First World War , but rapid occupation by Nazi Germany in 1940 persuaded most Danes that Neutrality is no longer a reliable guarantee of Danish security. Denmark joined NATO in 1949. In 1973 Denmark joined EEC ( Current European Union) The country has opted out of certain elements of the European Union's Maastricht Treaty, including the European Economic and Monetary Union. ( EMU) European defense cooperation and issues certain Justice and Home affairs.
Geography of Denmark
Coordinates: 56 00 N, 10 00 E
Location: Northern Europe, Have borders with the Baltic Sea and the North Sea, on a peninsula north of

Germany

( Jutland Peninsula), also includes two major islands (Fyn and Sjaelland).
Area of Denmark: Total area of Denmark is 43 094sq km. Water area is 700 sq km. Denmark includes the Jutland Peninsula, and the major islands of Sjaelland and Fyn and the island of Bornholm, but excludes the Faroe Islands and Greenland . Area is 42 394 sq km.
Coast line of Denmark : 7314 km.
Climate: Windy winters and cool summers, temperate, humid and overcast; mild.
Terrain: low and flat to gently olling plains.
Elevation extremes: lowest point- Lammefjrd = -7m; Highest point- Yding Skovhoej = 173m.
Natural hazards: flooding is a threat in some areas of the country except parts of Jutland, along the southern coast of the island of Lolland that are protected from the ocean by modern system of dikes.
Natural resources: Gravel and sand, stone, limestone, petroleum, natural gas , fish , salt.
53% arable land ; 0,20 permanent crops.
Environment : air pollution, principally from vehicle and power plant emissions; drinking and surface water becoming polluted from animal wastes and pesticides, nitrogen and phosphorus pollution of the North Sea.
Population of Denmark
Population of Denmark (Estimated ) for July 2009 is 5,5 million
About 1/4 of the population lives in Copenhagen.
Ethnic groups: Scandinavian, Inuit, German, Faroese, Turkish, Iranian, Somali.
Religions: Evangelical Lutheran 95%, other Protestant and Roman Catholic 3%, Muslim 2%
Speaking Languages: Danish, Faroese, Greenlandic ( dialect ), German (just a little ). People of yang age mostly can speak English . English is dominant foreign language. ( Do you need to learn Danish? )
Economy of Denmark
All facts about Economy of Denmark. - Denmark is a net exporter of food and energy and can easily enjoy with comfortable balance of payments surplus. The Danish government has been successful in meeting, and even exceeding, the economic convergence criteria for participating in the third phase ( Common European Currency ) of the European Economic and Monetary Union (EMU ), but Denmark has decided not join
to 12 other EU members into euro. Economical features of Denmark
GDP ( Purchasing power parity ): 189,3 billion USD
GDP per capita 34800 USD ( 2005 )
47390 USD ( 2006 ).
GDP real growth rate : 3,4%
GDP composition by sectors:
Services = 74%,
Industry = 24%,
Agriculture = 3%,
Labor force: 2,9 million people.
Labor force occupation:
Services = 76%,
Industry = 21%,
Agriculture = 3%,
Unemployment rate: 5,9%
( One of lowest in the world )
Budget revenue: 144 billion USD.
Government of Denmark
All facts about Government of Denmark.

Official country name:
Long form - Kingdom of Denmark
Short form - Denmark
Local long form - Kongeriget Daanmark
Local short form - Danmark
Government type: constitutional monarchy
Capital: Copenhagen
Administrative division: Metropolitan Denmark - 14 counties
( amter, singular - amt ) and 2 boroughs
(amtskommuner, singular - amtskomunes ):


Arhus

,

Bornholm

,

Fredericksberg

,

Frederiksborg

,

Fyn

,

Kobenhavn

,

Kobenhavns

,

Nordjylland

,

Ribe

,

Ringk?bing

,

Roskilde

,

Sonderjylland

,

Storstrom

,

Vejle

,

Vestsjalland

,

Viborg

. Also

Faroe Islands

and

Greenland

, which are part of the Kingdom of Denmark. They are self-governing administrative divisions.
Danish National holidays: National day 5th June ( Constitutional Day ) Original constitution was created in 1849 There was a major overhaul 5th June 1953 allowing for a unicameral legislature and a female chief of state.
Independence: Denmark first was organized as a unified state in 10th century and in 1849 became a constitutional monarchy.
Head of state: Queen MARGRETHE 2 ( queen since 14 January 1972 ) Heir Apparent Crown Prince FREDERIK, elder son of the monarch
( he was born 26 May 1968 ).
Head of government: Prime Minister Lars Lokke Rasmussen ( prime minister since April 5 2009 )
Council of state: appointed by the monarch
Election: No elections, in Denmark the monarch is hereditary, Following legislative elections, the leader of the majority party of the leader of the majority coalition is usually appointed prime minister by the monarch.
Judical Danish branch: Supreme Court (judges are appointed by the monarch for life ).