DenmarkFacts.com blog.
Our Denmark Facts Blog give to you all the required help and information.
We'll let you know when any new or changed web pages appear on Our Guide to Wonderful Denmark. So you will not miss anything !
You may ask what is exactly RSS?
" Really Simple Syndication " or I would say " Real Simple Subscribing ". It is a new way for content publishers deliver to you really valuable content. In other words, RSS is a real simple way for you to subscribe and read the content published on this site or any different sites by others. Fast and Easy.
To subscribe to my Denmark Facts Blog you don't have to give your email. Just simple right click on the orange RSS button and then paste the URL into your RSS reader. Or click on the my Yahoo! button or My MSN button or add to Google button - if you have personalized home page there.
If you don't have yet RSS reader you can download it for free. You can find out more about this then you click on What is RSS button .
Once you start using it and you will be really surprised at what RSS can do.
Just make a single click to get all information you nee. Enjoy with your new useful internet tool.
Oct 15, 2015
I miss you, Dante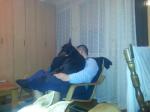 I'm sorry for your Tomas, even he past away almost 10 years ago. I know how you feel... I found my Dante on abandoned, on the street in a town where I