Copenhagen Denmark
Walk of Copenhagen Denmark - is a walk into history.
Colorful old houses, which are reflected in the canals, undoubtedly give the unique charm of Copenhagen. Moreover, it is impossible not to think of your favorite childhood H.C. Andersen - a city constantly remind of him.
You should definitely see Copenhagen with its narrow streets and ancient buildings. Copenhagen just designed for walking. Here is the oldest in the world, Strøget pedestrian zone.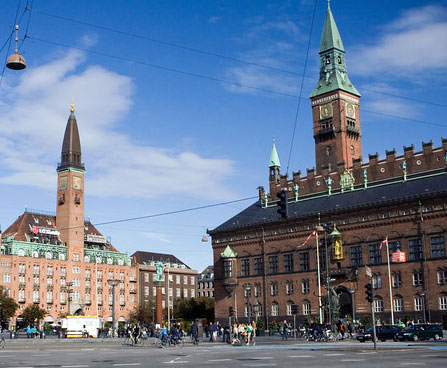 The centre of Copenhagen is the area of the City Hall, on this square is located a stone with a mark of 0 km.The building of the town Hall is famous for the original thermometer. In good weather, there is the figure of a girl on a bicycle, and in bad - the same girl with the umbrella. Here, in the area are unusual fountain "Bull, rending the dragon" and the pedestal with two Vikings-troubadours.

Depending on the nature and mood of the guide, you will be told one of two legends about these bronze Viking troubadours. The first - a strict and formal: they shall blow when Denmark will be in danger of death, the sound will wake Lure hero Holger sleeping in the castle of Kronborg, and he will save his land. The second - in the spirit of Copenhagen pranksters: Lure sound you hear when on the Town Hall Square will be an innocent girl. One way or another, but for the past hundred years are silent Lurs Vikings ...

Town Hall Square begins the oldest and longest pedestrian zone in Europe - Stroget (in Danish "stroget" means "to walk"). The word "Stroget" is never found on the map of Copenhagen, as Stroget includes some flowing into each other streets in the old city. As it should be a pedestrian street, Stroget dotted cafes and restaurants, souvenir shops and luxury boutiques, fun pedestrians, clowns, and street musicians. Here, as elsewhere, life pulsates around the clock and the air is saturated with the holiday.
Have A Great Story About Copenhagen Denmark?
Do you have a great story about your trip to Copenhagen? Share it!
What Other Visitors Have Said
Click below to see contributions from other visitors to this page...